Frequently Asked Questions
What forms of payment are accepted?
We accept cash, Visa, Mastercard, and Discover.
Is there an admission fee?
Putt-Putt Funhouse provides free admission for all guests, you pay for what you want to do while you're here.
What restrictions do you have for your attractions?
Bumper Boats require the driver to be at least 44" tall to operate the boat solo, and a passenger must be at least 36" tall and 3 years of age to be a passenger with an adult 16 years of age or older.
Bumper Cars require all drivers to be at least 36" tall.
Rock Climbing Wall requires all climbers to be wearing closed toed shoes and weigh at least 45 lbs.
Ballocity requires participants to be ages 2-12 while wearing socks. Adults may accompany their child at no additional cost.
Hologate requires participants to be at least 5 years old. In some cases depending on the game chosen, viewer discretion is advised.
What is your policy on bringing in outside food?
We do not allow outside food to be brought into the facility with the exception of a birthday cake with your reservation. Additionally, we will make exceptions if a customer has a strict dietary requirement. The Funhouse Café has a full service menu and Ice Cream Parlor.
Is Putt-Putt Funhouse just for kids?
No, we are an all ages facility with attractions that will delight every age and interest.
Do you offer coupons?
Yes, we offer coupons in several different publications and coupon books. We also have an online FUN-Club that you may sign up for and receive discount coupons and promotional discounts directly from us.
What are your hours of operation?
Putt-Putt Funhouse is open every day of the year with the exception of Thanksgiving and Christmas Day. Click here for our hours of operation.
Do your Attractions expire?
Depending on which package you may have purchased, some may expire. If you would like to inquire specifically please call us. 281-333-0579
What is a "Play Card?"
A Play Card is a state of the art electronic debit card that allows you to electronically deduct your purchases at the various attractions and games located at our facility. You may also store your "Redemption" tickets digitally on your Play Card. Play Cards that are registered to an individual are recovered at any time.
How would Putt-Putt Funhouse operate during inclement weather?
Only Bumper Boats and Putt-Putt Golf are located outside thus leaving all remaining attractions indoors in air conditioned comfort.
Do your parties or groups require a deposit?
Yes, upon making a reservation we require a $50 non refundable deposit for all group and party packages. Lock-ins have a variable deposit dependent on which lock-in is reserved. Your deposit is applied towards your final payment.
Do you serve alcohol?
Yes, we serve Beer and Wine. Please click this link to see our menu: https://www.beermenus.com/places/51863-putt-putt-funhouse
806 East Nasa Parkway
Webster, TX 77598
(281) 333-0579
Hours Calendar (click to view larger)
The Putt-Putt FunHouse is a leader in the community through sponsorships, scholarships, and donations to the civic, business, youth, YMCA, Space Center Rotary, Houston Food Bank, and especially the local school districts in the Clear Lake area.
In The News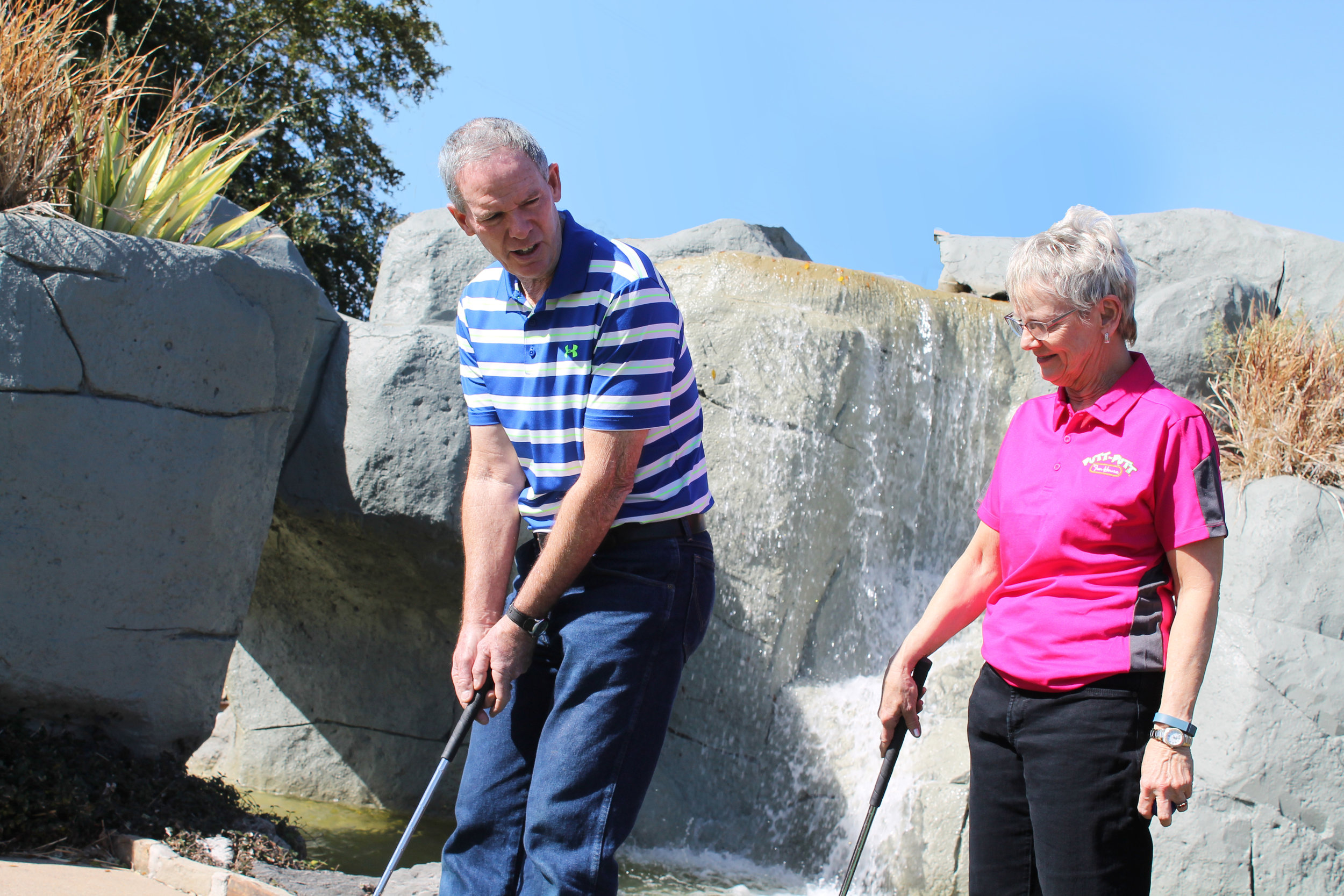 Owned and operated by original owners Jim and Carol Saxe, Putt-Putt FunHouse attracts kids, families, and groups of all kinds.
Putt-Putt Golf Course opened in 1979. Our name was changed to Putt-Putt Golf & Games in 1993 when it expanded to a full entertainment center. In 2002 a new two story building was added which was the impetus for the idea of a new concept, Putt-Putt FunHouse. In 2009 an extensive themed building was added to give more area for inside air conditioned attractions.
We always add the latest and greatest games and attractions and have continued to improve and expand throughout the years.
Open year round, it is an ideal location for a family outings, groups, or birthday parties.
Did you know that Putt-Putt FunHouse is turning 40 this year? 🎂 We're celebrating all year long with throwbacks to 1979 and exciting plans for even more family fun in the future!
Please click here to download an application. Print it out, fill it out, bring it in! We look forward to meeting you. Or apply online with form below.